When Eden Hore began collecting high fashion garments in 1970s New Zealand, he would have had no idea that he'd be building what is considered to be the largest and most comprehensive fashion collection of that era that exists anywhere in the country.
That a High Country farmer from Naseby in Central Otago would have such passion for fashion is intriguing enough, but that he left a legacy of 261 stunning gowns, including award winning garments and statement pieces by leading New Zealand designers, makes Eden's story one that captures the imagination of all who hear it.
In fact Eden's story goes far beyond the garments he collected. An innovative farmer of note, a collector of rare animals and owner of an art deco fountain, his story is interwoven with the dramatic region in which he lived – the vivid contrast between the desolation of the High Country and the high glamour of the fashion parades and beauty pageants he would frequent to find the couture he purchased.
Now in the hands of the Central Otago District Council and managed by the Eden Hore Trust, Eden Hore Central Otago is embarking on a new journey, with the emphasis being to ensure the collection's careful preservation, as well as seeking opportunities to share the Eden Hore Central Otago experience, both in the Central Otago region of Eden's home, and throughout the country.
Under the careful eye of the Eden Hore Central Otago Steering Group, a number of milestones have already been achieved, including having a capsule of the collection photographed in dramatic Central Otago locations by celebrated expat Kiwi photographer Derek Henderson, and an exhibition of selected garments, video and photography at The Dowse in December 2021 - the first outside of the South Island in the history of the collection.
This website is part of that work in progress. We invite you to join us in celebrating Eden Hore Central Otago by following its journey, visiting its exhibitions and supporting its fund raising to help ensure this valuable collection lives on.
The Eden Hore Central Otago Trust
Trustees
Sam Neil
A recipient of an Order of the British Empire for Services to Acting, and a Distinguished Companion of the New Zealand Order of Merit, Sam Neill is internationally recognized for his contribution to film and television, with more than 80 films and over 45 television programs to his credit.
Neill made his film debut in Roger Donaldson's Sleeping Dogs and his feature breakthrough in a starring role opposite Judy Davis in My Brilliant Career. The two films that subsequently brought him international stardom and acclaim were writer/director Jane Campion's The Piano and Steven Spielberg's Jurassic Park. Written and directed by visionary filmmaker Jane Campion, The Pianostarred Neill, Holly Hunter, Harvey Keitel and Anna Paquin and won 3 Oscars, 3 BAFTA and 11 Australian Film Institute (AFI) awards, along with an AFI Best Supporting Actor nomination for Neill. In 2016 he received an AFI Best Supporting Actor nomination for his work in The Daughter.
His film credits include Dead Calm opposite Nicole Kidman for director Phillip Noyce; A Cry In The Dark opposite Meryl Streep for director Fred Schepisi; The Hunteropposite Willem Dafoe(for which Neill received an AACTA Best Actor nomination);Little Fishopposite Cate Blanchett; The Horse Whisperer alongside Kristin Scott Thomas, Robert Redford and Scarlett Johansson; PerfectStrangers; The Hunt For Red October alongside Sean Connery and Alec Baldwin for director John McTiernan; Dirty Deedsalongside Bryan Brown and Toni Collette; Bicentennial Manopposite Robin Williams for director Chris Columbus; Wimbledonopposite Kirsten Dunst; My Talks With Dean Spanley alongside Peter O'Toole and Bryan Brown; Skin opposite Sophie Okenedo; Yes for Orlando director Sally Potter; Daybreakers; the animated film Legend Of The Guardians: TheOwls Of Ga'hoole; and Czech production The Zookeeper. Recent features include The Daughter (for which he received his second AACTA Best Actor nomination); director Taika Waititi's multi-award winning film Hunt For The Wilderpeople; director Warwick Thornton's AACTA Best Film winner SweetCountry opposite Bryan Brown and Hamilton Morris, box office success Sony's Peter Rabbit and Palm Beach, directed by Rachel Ward and also starring Bryan Brown, Richard E. Grant and Greta Scacchi; Blackbird with Kate Winslet, Susan Sarandon and Mia Wasikowska directed by Roger Michell; Rams with Michael Caton and Miranda Richardson directed by Jeremy Sims. Upcoming he will be seen in Jurassic World 3: Dominion alongside Bryce Dallas Howard, Chris Pratt, Jeff Goldblum and Laura Dern and directed by Colin Trevorrow, Assassins Club with Henry Golding and Noomi Rapace and directed by Camille Delamarre and The Portable Door staring Christoph Waltz and Miranda Otto and directed by Jeffrey Walker.
His work in television has earned Sam Neill three Golden Globe Best Actor nominations. In 1998 he received Emmy and Golden Globe nominations for his performance in the title role of the NBC miniseries Merlin. He received a Golden Globe nomination in 1992 for his performance opposite Judy Davis in One Against The Wind and a third Golden Globe nomination, along with the BAFTA Award for Best Actor, for his performance as British spy Sidney Reilly in director Martin Campbell's Reilly: Ace Of Spies. He also received the Australian Film Institute (AFI) Best Actor Award for the Australian drama Jessica.
Other television credits include the ITV miniseries, Tutankhamun; the first two seasons of the hit BBC series Peaky Blinders, starring alongside Cillian Murphy; the Australian crime drama Old School opposite Bryan Brown; the FOX drama series Alcatraz; the acclaimed Australian television series Rake;NBC's Crusoe; Showtime's The Tudors with Jonathan Rhys Meyers; the miniseries To The Ends Of Earth with Benedict Cumberbatch; and Granada's epic miniseries Doctor Zhivago. He has recently finished filming Invasion for Apple TV directed by Jakob Verbruggen.
He has a small organic winery called Two Paddocks, and is a longtime activist and spokesman for environmental causes.
Dr Jane Malthus
Jane is Honorary Curator of European Dress at Otago Museum and an independent dress historian, curator and artist. She co-curated Otago Museum's current Fashion Forward: Disruption Through Design exhibition.
She has played an instrumental role in developing the Eden Hore Fashion Collection, before and since it was acquired by Council. She has organised exhibitions, overseen cataloguing, contributed to conservation assessment, given conference papers and talks on the Eden Hore collection, published scholarly articles and provided professional advice to Council as required. Throughout this process she has undertaken research into the items and designers represented in the Collection. This work is ongoing.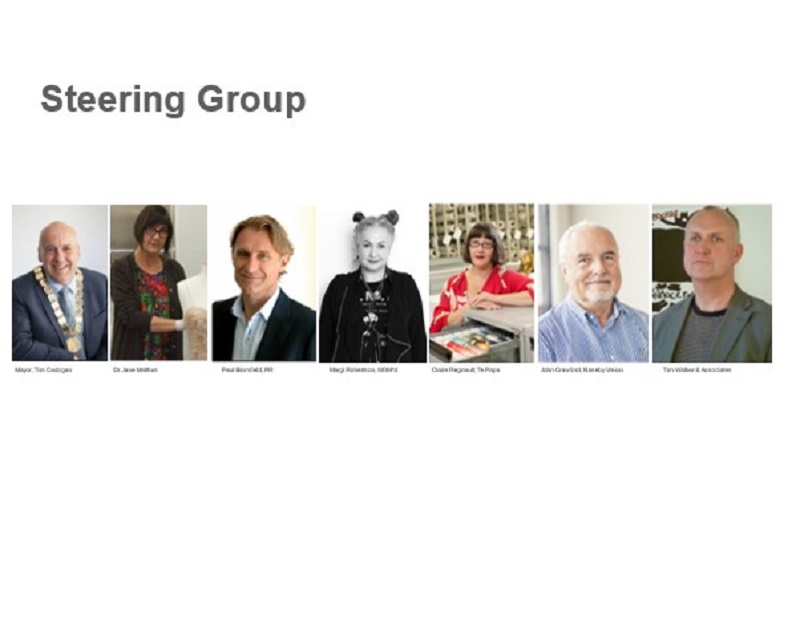 His Worship Tim Cadogan, Mayor of Central Otago District
Mayor Tim came to the Mayoralty following a career in Law and before that, a career as a radio broadcaster and copywriter. Tim was the winner of the 2003 New Zealand Radio Award for Best Station Promotion.
Tim has had a long involvement with the Alexandra-based WoolOn Creative Fashion Event, including being the MC of the first few WoolOn events in the early 2000's as well as a number of events in the 2010's, through being Deputy Chair of the Alexandra Blossom Festival Committee for 8 years, during which time that Committee ran the event. Tim chaired the first WoolOn Committee following its becoming a stand-alone event in 2017 – he resigned from this position upon taking up the Mayoralty.
Paul Blomfield
Paul Blomfield is a well known fashion industry advocate, PR professional and event manager. He runs Paul Blomfield PR which covers Public Relations, event management, brand creation and development, research and strategic planning.
Paul has worked with many of New Zealand's iconic brands and big events as varied as The Auckland Darts Masters, Top Gear Live, The Auckland Home Show, The BMW Polo Open, Taste of Auckland and the Armageddon Expo to name a few.
Whilst now not actively involved in the fashion sector, Paul's extensive experience in this field means he's always available to offer support and professional assistance for those in the sector.
Margarita Robertson
The influence that Margarita Robertson has had on the New Zealand fashion industry began in 1975 in the Dunedin retail environment. The first PLUME store opened in 1978, offering a curated selection of avant-garde designers, the business expanded in 1986 with the conception of now-ubiquitous label NOM*d. Initially a knitwear range, however as the collection developed, PLUME became the flagship store for the label. Robertson opened a second PLUME in Christchurch in 1992, confirming the success and longevity of NOM*d, and the international designers that are stocked alongside. In 1998 NOM*d was invited alongside three other NZ designers known as the NZ Four to show her collection at London Fashion Week. Since then, NOM*d has been recognised as the epitome of avant-garde Antipodean fashion, and Robertson has shown the label in conjunction with both London, Paris and New York Fashion Weeks. Collections such as Red (AW 2003), Caveat Emptor (SS 2005-06) and Turncoats (AW 2010) have galvanised NOM*d's dark, deconstructivist and utilitarian attitude. The significance of the label has been recognised by its acquisition into dress collections at the National Gallery of Victoria and Te Papa Tongarewa. In 2018, Robertson was appointed an ONZM for her ongoing services to the New Zealand fashion industry. After 35 years, NOM*d and Robertson's impact on fashion and print culture is enduring, continuing to offer innovative clothing for the discerning customer.
Tim Walker
Tim Walker is an Auckland-based arts & culture consultant. After 3 decades in the art gallery sector (as fine arts curator at Waikato Museum, senior art curator at National Art Gallery/Te Papa and director at the Dowse Art Museum) he set up his own company to work with cultural organisations, iwi, government and local government and tourism operators throughout New Zealand and in the Pacific.
Tim undertook the Eden Hore Fashion Collection Feasibility study for the Central Otago District Council in 2016. Tim is chair of the Board of Toi Whakaari; NZ Drama School. He has a MA in Art History and was awarded an Honorary Degree in Creative Technologies by the Wellington Institute of Technology
Claire Regnault
Claire is the Senior Curator New Zealand History & Culture at the Museum of New Zealand Te Papa Tongarewa. Her research interests lie primarily in New Zealand's fashion histories and associated industries. Her publications include Dressed: Fashionable Dress in Aotearoa 1840 to 1910 (Te Papa Press, 2021), which has been described by NZ Geographic as 'social history at its best', The Dress Circle: New Zealand Fashion Design Since 1940 (Godwit, 2010) and the New Zealand Gown of the Year (HBCT, 2003). She is an active member of the Costume & Textile Association of New Zealand.
John Crawford
John has a 30 year association with Naseby and the broader Maniototo area and chaired Naseby Vision Inc for 13 years and remains a committee member. Naseby Vision has had an interest in the future of the Eden Hore collection since it was acquired by the CODC and has been actively involved in the Council's consultation process.
John was until a couple of years ago General Manager of Dunedin-based international television production company NHNZ Ltd. He co-owns, with Jacquie his wife, Big Sky Adventures Ltd, an Otago Central Rail Trail tour business and a small floriculture business, both of which are Naseby based. He has previously held a number of company directorships and has served on committees and trusts.